Report a Lost or Stolen card
To report a lost or stolen card, please use the phone number to the right of the type of card you need to report.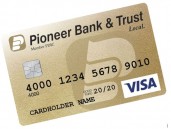 Pioneer Bank & Trust ATM Checkcard During Normal Business Hours Please Call 605-717-2265. After Hours Please Call 800-236-2442.

Pioneer Bank & Trust Green Visa Card Please Call 800-788-9524.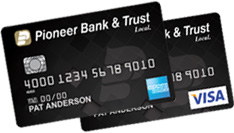 Pioneer Bank & Trust PERSONAL American Express or Visa Card Please Call 800-558-3424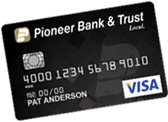 Pioneer Bank & Trust BUSINESS Visa Card Please Call 866-552-8855