Personal Credit Cards
VISA & American Express Credit Cards
Pioneer Bank & Trust issues Visa and American Express cards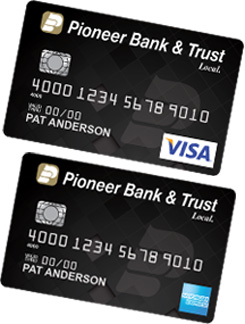 through Elan Financial Services*.
Both the VISA and American Express credit cards are offered at a very competitive interest rate. Why not apply for a credit card from your local bank?
Earn the rewards you deserve and simplify your life with the right Credit Card from Pioneer Bank & Trust.
Apply Online Click for more information or to apply now.
Access Account Click to make a payment, enroll, log in or view history.
If your current credit card looks like one of the cards shown to the right, click above to access your information.
To Report a Lost or Stolen Pioneer Bank & Trust PERSONAL American Express or Visa Card Please Call 800-558-3424.
---
Information where you need it and when you need it from your local Pioneer Bank & Trust.
* Pioneer Bank & Trust does not control this website and is not liable for any failure of products or services advertised on this site. This site may have a privacy policy and security different than Pioneer Bank & Trust.