Business Debit Cards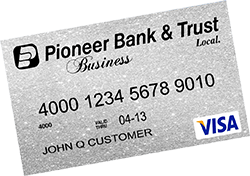 If you don't already have one, this is the fastest growing convenience product in America. Apply for your Pioneer Bank & Trust ATM/VISA CheckCard. Remember, there is no annual fee and no transaction fee to use the check card. And, no use fee when you use an Advantage or Allpoint ATM machine.
The ATM/VISA CheckCard is another great service from your Local Pioneer Bank & Trust. Cards can be embossed with both the business and individual's names.
Lost or Stolen Card Reporting
To report suspected fraud or a lost card during normal business hours call us at (605) 717-2265. If we are not available at that number, you can call (800) 236-2442 for your Pioneer Bank & Trust ATM/CheckCard. All cards reported will be coded to prevent further use. We will investigate your report and may have to issue you a new card and/or account in order to protect you from fraud.
You can obtain a replacement card faster by calling us directly at (605) 717-2265 during normal business hours. After normal business hours, please call (800) 236-2442