Clay Birkeland – Senior VP/Director of Agricultural Banking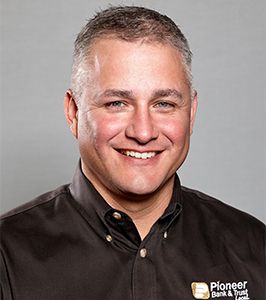 Clay has more than 20 years of agricultural and commercial banking experience. A 1993 graduate of Colorado State University, he completed the Graduate School of Banking at Colorado in 1999. He has been with Pioneer Bank & Trust in Belle Fourche since 1996, helping farmers, ranchers and area business persons with their diverse banking needs. He has been a trusted resource for hundreds of customers to help their business interests grow and thrive.
Clay is an active Board of Director member for the South Dakota High School Rodeo Association, the Belle Fourche Country Club and the Belle Fourche Development Corporation. He has coached a multitude of youth sports in Belle Fourche and is a past President of the Belle Fourche Chamber of Commerce.