Jay Cordell – VP/Commercial & Ag Lender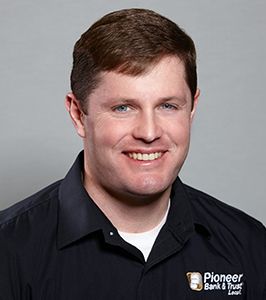 Jay has been with Pioneer Bank & Trust since September 2012. Prior to that, he worked four years as an Agricultural Lender for Dacotah Bank in the Lemmon, SD and Hettinger, ND markets.
Jay is a native of Camp Crook, SD where he was raised on a cattle and sheep ranch. He is a 2003 graduate of Harding County High School and a 2007 graduate of Black Hills State University with a B.S. degree in Business Administration specializing in accounting.
He holds additional certifications with completion of the ABA Commercial Lending course, the SDBA School for Beginning Agricultural Lenders and the ICBA Commercial Lending Institute.
Outside of the bank, Jay is active in the community by serving on the Board of Directors for the Belle Fourche Economic Development Corporation and the Belle Fourche Chamber of Commerce serving as Board President in 2016 and 2017.