Pioneer Bank & Trust Employee Receives Prestigious Banking Diploma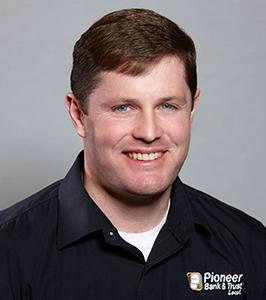 BOULDER, COLO. – Pioneer Bank & Trust is proud to announce Jay Cordell's completion of the Graduate School of Banking at Colorado's (GSBC) state-of-the-art graduate school of banking program.
Graduates receive their GSBC diplomas upon successfully completing three annual two-week sessions of classroom training on the University of Colorado Boulder and were honored in a ceremony on July 29, 2021.
"We're very proud to have Jay on the Pioneer Bank & Trust team. Going through this program shows you how committed he is to our customers. It's quite an accomplishment," noted Dylan Clarkson, President & CEO of Pioneer Bank & Trust. "The Graduate School of Banking at Colorado is one of the more prestigious banking schools in the country and to have another of our employees complete their program defines how dedicated Pioneer Bank and our entire staff is to serving the communities we're in."
GSBC's curriculum is community banking-focused, delivered by expert faculty which covers four tracks: financial management, general management & technology, leadership & human resources, and lending. The students also complete six
 immersive intersession research projects throughout their time in the program.
"I want to thank the leadership of Pioneer Bank & Trust for the investment they have made in my continued education at GSBC," commented Cordell.  "I look forward to putting this valuable knowledge to work for the benefit of the organization, the customer base and the community."
The program's capstone course is an in-depth bank management simulation, where students assume the roles of senior management of a commercial bank, involving themselves in the group dynamics and managerial skills of managing a bank in a competitive environment with changing economic conditions.
GSBC celebrated its milestone 70th annual school session July 18-30, 2021, hosting students both in person and virtually from across the U.S.
Jay, a native of Camp Crook, SD, has been with Pioneer Bank & Trust since 2012.
He is a 2007 graduate of Black Hills State University with a B.S. in Business Administration specializing in accounting and holds additional certifications with completion of the ABA Commercial Lending course, the SDBA School for Beginning Agricultural Lenders and the ICBA Commercial Lending Institute.
###
The Graduate School of Banking at Colorado is America's Premier Community Banking School, boasting more than 8,000 alumni since its inception in 1950, and educating approximately 600 bankers and regulatory professionals from around the nation annually. GSBC prides itself on its commitment to providing unmatched higher education to America's community bankers. To learn more about GSBC's lineup of comprehensive educational programs, visit www.GSBColorado.org.
Pioneer Bank & Trust serves five communities at six locations in Western South Dakota with banks in Belle Fourche, Buffalo, Spearfish, Sturgis and two Rapid City locations. For more about Pioneer Bank & Trust go to PioneerBankAndTrust.com.