Personal Debit Cards
A personal debit card offers you convenient access to funds in your checking account, just like writing a check. It also provides access to shop online or in stores. Debit Cards offer access to your funds 24 hours per day at ATM machines worldwide or through PIN-based transactions at qualifying merchants.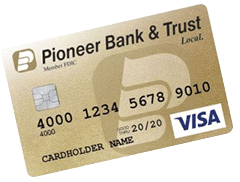 If you don't already have a debit, it's a convenience you can't afford to live without.
We are a member of the Advantage and Allpoint Networks, providing over 55,000 surcharge-free ATMs at retail locations. Get cash at the convenient location nearest you as often as you like, it's all surcharge free. Find the ATM that is closest to you by clicking on the ATM Locator today.
Want a Pioneer Bank & Trust Debit Card? Just contact a Personal Banker today and they'll take care of it!
Lost or Stolen Card Reporting
To report suspected fraud or a lost card during normal business hours call us at (605) 717-2265. If we are not available at that number, you can call (800) 236-2442 for your Pioneer Bank & Trust Debit Card. All cards reported will be coded to prevent further use. We will investigate your report and may have to issue you a new card and/or account in order to protect you from fraud.
You can obtain a replacement card faster by calling us directly at (605) 717-2265 during normal business hours. After normal business hours, please call (800) 236-2442